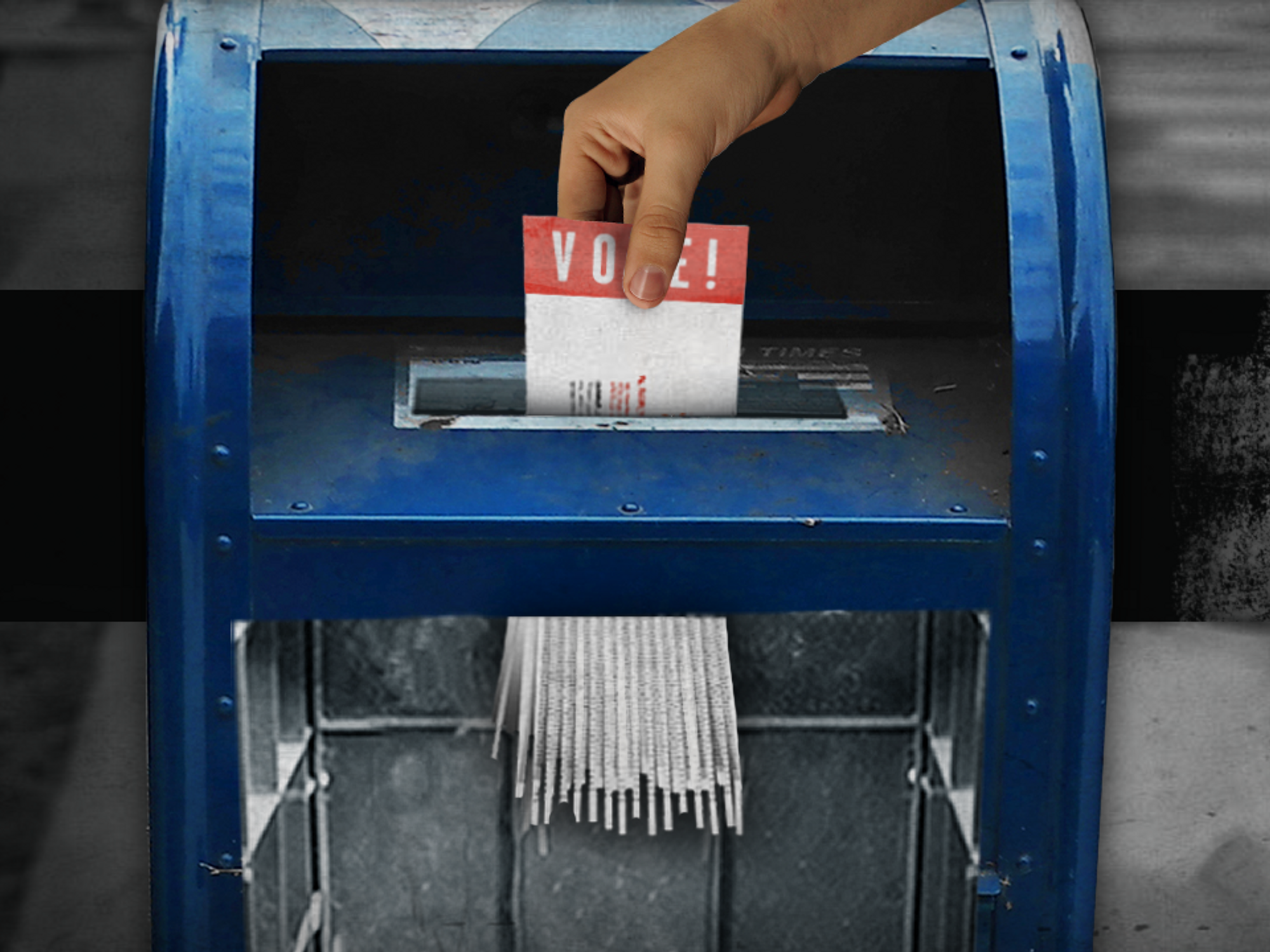 The left learned their lesson from 2016 and are working overtime to stack the deck against President Trump and will do
whatever it takes this time around. On tonight's special, we will expose how they are tweaking the state voting systems to make sure Joe Biden's path to victory is easier, including many states — I believe — rigging the ballot.
Tonight, we're going to show you how mail-in voting is already going off the rails in many states and in three weeks, you can bet the argument will be: "There was voter fraud on the right!"
WATCH ON BLAZETV: Election Hijacking: How the Left Is Ensuring Your Vote Doesn't Count
And they're going to be fighting in every swing state, with courts. With the hanging, pregnant or dangling chads.
All of it.
The
Washington Post reported in August, that more than half a million ballots were rejected in the primaries, because of ballots that arrived too late or had voter errors. So no matter who you vote for, it's going to be a mess if you vote by mail.
Twitter announced it's going to expand its crackdown on misinformation surrounding the election and mail-in voting, according to the
New York Post. Here's an excerpt:
Jack Dorsey, the company's CEO, said in an appearance on "The Daily" podcast last week that Twitter will "continue to evolve our policy to protect the integrity of the conversation around elections." That includes, he said, suspending any accounts that might engage in "particular egregious aspects of violations of the terms of service," even if it belongs to the President of the United States. "We won't hesitate to take action on the accounts and use every tool that we have together with that," Dorsey said.
If a social media channel belonging to Ben Shapiro, Steven Crowder, Mark Levin or myself gets "fact-checked" by Big Tech, the consequences could include a hard-strike, resulting in demonetization or the complete shutdown of the channel.
But it's not about the money. It's a warning shot.
First they take the revenue, which we use to help pay for our research and to get our voices to the masses. And then they take the platform entirely. It's a way to curtail the kind of content that we put out that they don't approve of because of an
opinion disagreement.
Since Big Tech is so anxious for any reason to silence us, tonight's special will not be available on any other platforms and will air exclusively on BlazeTV for subscribers. If you are not already a subscriber, I urge you to join today. Use the promo code SAVEOURELECTION for 20% off.
WATCH ON BLAZETV: Election Hijacking: How the Left Is Ensuring Your Vote Doesn't Count
If you aren't able to subscribe at this time, please sign up for my
free newsletter to make sure you and I are not cut off from each other. Signing up is simple and easy, just enter your email address and we'll make sure you're up to date on everything you need to know for these crazy times.
To stand up to these
Tech Tyrants and continue to fight for freedom and liberty, we need your help to spread the message far and wide. To win this battle, you'll need to arm yourself with information but make no mistake about it, this election is not the end of the road.
In fact, it's just the beginning.
As the results most likely will not be known for days, weeks or quite possibly even months, I'm putting together a running list of stories that fall into three categories:
Voter Fraud/Potential Fraud
Mail-In Ballot Chaos
Election Litigation/Court Decisions
Voter Fraud/Potential Fraud
October 2020
Federal Agents Raid Home of Pittsburgh-Area Mail Carrier, Collect Bags of Suspected Undelivered Mail (KDKA-TV)
'I thought it was somebody playing a prank': Man finds dozens of ballots in California trash (Washington Examiner)
Carrollton Mayoral Candidate Zul Mirza Mohamed Arrested, Charged With 100+ Counts of Voter Fraud (CBS DFW)
NJ mailman allegedly tossed 99 election ballots into dumpster (New York Post)
USPS collection boxes broken into in multiple Virginia counties, sparking fears of missing ballots (TheBlaze)
Florida man who requested mail-in ballot for dead wife hit with voter fraud charge (FOX News)
September 2020
Biden's Texas Political Director Implicated in Massive Mail-In Ballot Harvesting Scheme in Harris County (American Greatness)
Alleged Scheme in Harris Co., Texas (US Tax Courts)
Affidavit of P.I. Mark A. Aguirre
Affidavit of P.I. Charles F. Marler
DOJ recovers 'small number' of 'discarded' military ballots in Pennsylvania (Washington Examiner)
Investigation Launched After Absentee Ballots Found Along Road in Swing State (Wisconsin) (The Daily Wire)
Voter Fraud: 1,000 Cases of 'Double-Voting' Found in Georgia (Townhall)
August 2020
Confessions of a voter fraud: I was a master at fixing mail-in ballots (New York Post)
July 2020
Four Plead to Voter Fraud Scheme on Skid Row (LADA)
Former congressman indicted on voter fraud, bribery charges (Politico)
1982 – Present
Database of Election Fraud Cases (Heritage Foundation)
Mail-in Ballot Chaos
October 2020
California elections officials order GOP to immediately remove unofficial ballot boxes (Los Angeles Times)
50,000 Ohio Voters to Receive New Absentee Ballots After Error Found (NPR)
New Jersey residents receiving ballots for out-of-state voters, dead people; election officials confident in anti-fraud measures: reports (FOX News)
September 2020
Reports: Nearly 1,400 Virginia voters got two ballots in the mail (FOX 5 DC)
NYC voters are wrongly receiving mail-in ballots marked for military use (New York Post)
Brooklyn Voters Receive Absentee Ballot Envelopes with Wrong Voter Names and Addresses (Gothamist)
Pennsylvania election officials sound alarm over 'naked ballot' ruling, warning it could jeopardize 100,000 votes (FOX News)
Election Litigation/Court Decisions
October 2020
Lawsuit calls for voter registration extension in Virginia following online portal shutdown (WTOP News)
Federal judge upholds Minnesota's extended ballot counting (FOX News)
A legal fight over how to fix ballot errors in North Carolina (The Washington Post)Supreme Court Justice Elena Kagan Denies GOP Efforts to Halt Mail-In Voting in Montana (Daily Caller)
NJ federal judge rejects Trump campaign's challenge to state's mail-in voting plans (FOX News)
Massachusetts' new voting rules will allow the state to count dead people's votes this year. Don't worry – it's 'temporary' (TheBlaze)
Federal judge orders Arizona to extend voter registration deadline until Oct. 23 (AZ Central)
September 2020
Court upholds Wisconsin ballot extension, hands Dems a win (ABC News)
Federal Judge in Ohio Rules Changing Signature-Matching Process This Late in the Election Would be 'Damaging' (Daily Caller)
Michigan judge says ballots received within 14 days of election should count if postmarked on time (FOX News)
Pennsylvania Supreme Court extends state mail ballot deadline to 3 days after election (FOX News)
The Green Party's presidential candidate is off the ballot in a big win for Pennsylvania Democrats (The Philadelphia Inquirer)
Wisconsin Supreme Court Rejects Green Party bid for Ballot Access (PBS News Hour)
August 2020
Dems get Green Party kicked off ballot after pressuring petition-signers; 'voter suppression' alleged (FOX News)We'll continue to update this list as additional stories come in. If you see stories that you think we should add to the list, let us know in the comments section below, or email them to me HERE.
We need you standing with us as we stand with you. As Ben Franklin said, we all better "hang together," or we certainly will "hang separately."